Dong Jun / SHINE
Yu Yang examines puppets before he returns to teaching.
Yu Yang, 29, is back in the classroom at the Shanghai Theater Academy, teaching students how to make puppets.

The students have warmly welcomed his return.
Yu was injured in a traffic accident last year that resulted in more than six months in hospitals for treatment and rehabilitation. He's now confined to a wheelchair, perhaps permanently, but that doesn't daunt his passion for puppets.
"Though my students came to see me in hospital," he told Shanghai Daily, "I prefer to see them here in the classroom, where we should be."
Dong Jun / SHINE
Yu Yang's first class with students after he returns to work last week.
Yu, who hails originally from the northern city of Tianjin, said his love of arts and crafts began in his childhood. He loved painting as a boy.
He applied for arts schools when he graduated from high school, but his English score in college entrance exams was poor and he didn't gain admission.
On his next try, he focused on the Shanghai Theater Academy, which at the time was recruiting undergraduates for the first-ever puppet-making course offered as a bachelor's program in China.
"I like making things," Yu said. "I dismantled and reassembled radios, video players, remote control units and many other things at home when I was a child. So I thought the major dovetailed with my many interests."
This time, he succeeded in gaining admission and went on to do four years of training in puppet-making and performance.
"Our school invited famous masters from puppet troupes to teach us everything related to the traditional art," he said. "We learned how to stage performances and the intricacies of puppet movements."
He added, "There are different types of puppet plays in different places in China, with different structures and different ways of performing. We learned the lot. It's amazing that puppet can do a lot of things that a human can't, such as dozens of continuous somersaults."
Yu and his classmates have won awards at puppet and shadow play competitions.
Ti Gong
Yu Yang was in London in 2015 to deliver a speech on puppets used in the play Beauty and The Beast.
"Today, there are only 33 people in China to hold a bachelor's degree in puppet-making, and I'm so lucky to be one of them," he said.
After graduation, Yu said he planned to work with a puppet troupe in Tianjin, but the academy persuaded him to stay on as a teacher.
"Performers need to understand the structure of a puppet well to control it properly and also to make quick repairs if necessary during a performance," he said.
Puppetry, a traditional folk art in China, is enjoying something of a renaissance under government programs to revive and promote cultural heritage.
Yu said many of his students have won awards at home and abroad, and some former students have gone on to become outstanding performers in famous puppet troupes or have formed their own puppet troupes.
Yu himself has also been gaining popularity as a puppet-maker and director of puppet shows. He has appeared on children's TV programs, and he and his students have also gone to schools, hospitals and neighborhoods to take puppetry to grassroots audiences.
Though puppetry is an ancient art, it is not immune to modern refinements. New materials and technologies, such as carbon fibers and electronic controls, make puppets lighter and more flexible.
In his leisure time, Yu said he enjoys rollerblading, riding bikes and motorbikes, photography and guitar playing.
He was injured in an auto accident last July, when he was riding his motorbike from the academy to a local market to find some materials for puppet-making.
He suffered fractures to his ribs and left shoulder and injuries to his spinal cord and lungs. He was in critical condition and underwent several surgeries.
After he returned to a stable condition, a doctor told him that his lower body might be paralyzed and sent him to rehabilitation training.
"I was upset, but I have never given up on life," he said. "I told myself that it's lucky my hands are okay and I can still make puppets."
Dong Jun / SHINE
Yu Yang's first class with students after he returns to work last week.
Though Yu still has to go to a rehab hospital every weekday morning, he decided to go back to teaching at the academy when the new semester began last week.
"Puppet-making is taught only in the third year of the curriculum, and the current 25 students missed it last semester," he said. "So I am making up for that with them."
To finish all the lessons for two semesters in the following four months, he has to teach in the afternoons and evenings three days a week.
"The university wanted to move my classroom from the fifth floor to the first floor because of my wheelchair," he said. "But that wasn't necessary because there are lifts in the building. It still isn't easy for me to do certain movements, so my students help me if necessary. I think things are going well."
Yu said he is also considering starting up a puppet company because new policies in the city now allow that. Besides making tailored puppets for clients, he also hopes to innovate the current puppet industry.
"All the puppets for plays now are handmade with unique parts, and it's inconvenient for performers to repair them by themselves if they break," he said. "I hope to make some universal parts that can be replaced by performers quickly and easily, just like auto parts."
Students who become successful after graduation are his primary goal.
"That's the real value of me as a teacher," he said.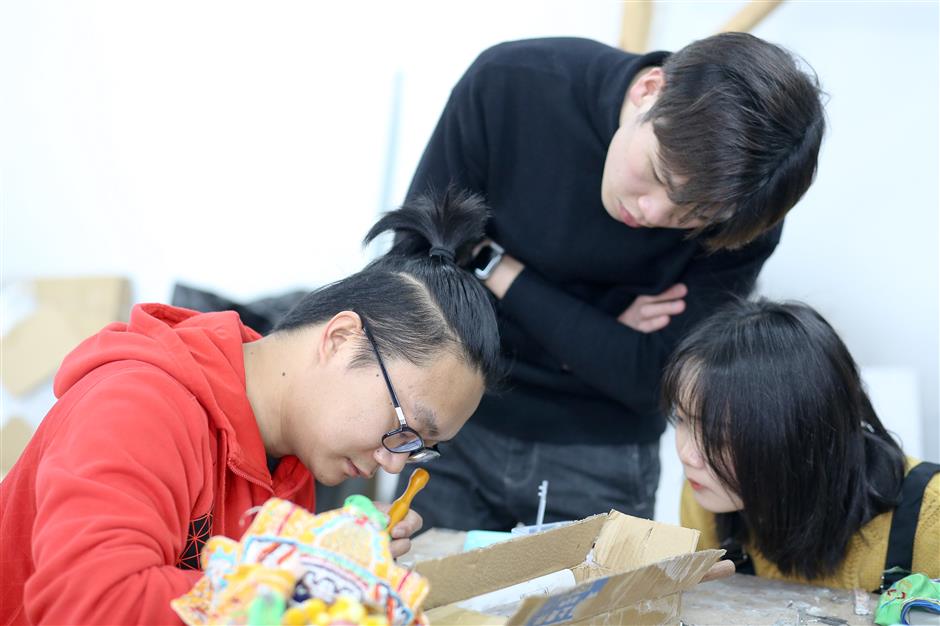 Dong Jun / SHINE
Yu Yang shows students how to make puppets at the first class after he returns to work last week.